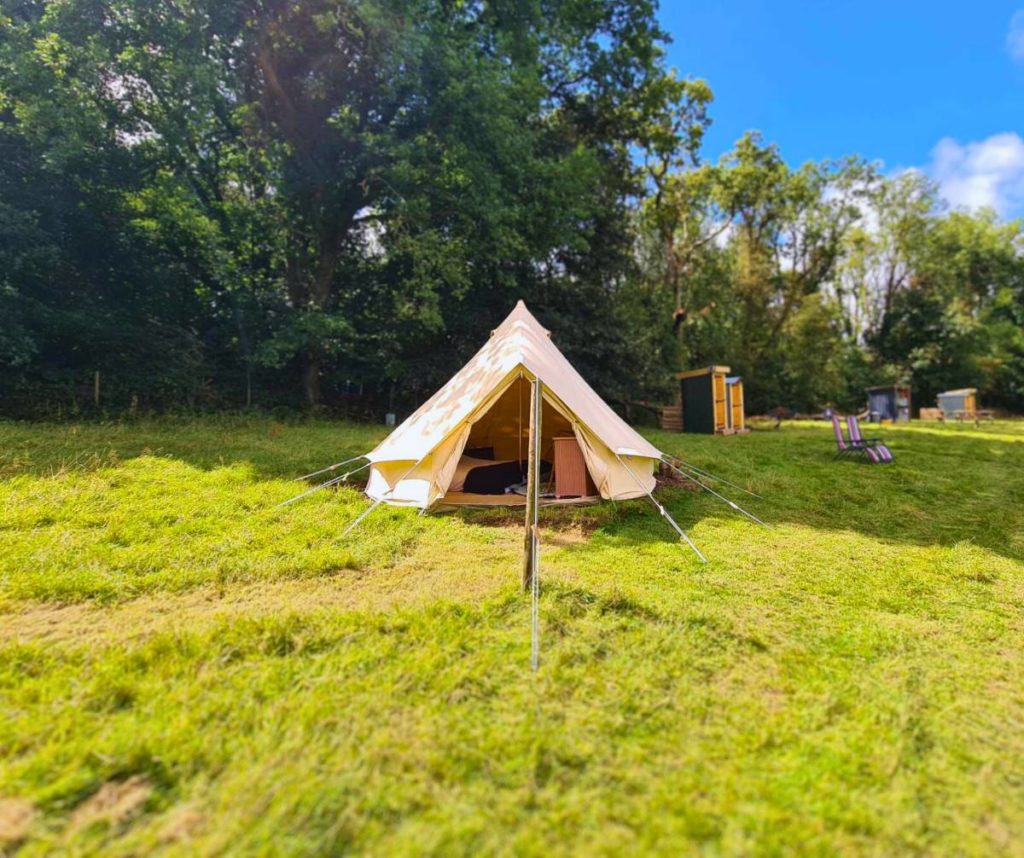 Unwind after a day of exploring and adventuring in the countryside with a stay in our 4m bell tent Derwen, named after the Welsh word for 'oak' to pay homage to the beautiful old oak tree that stands tall at the heart of our glamping & camping site in rural West Wales.
Inside Derwen, you'll find all the amenities and comforts you need for a memorable stay. The tent is tastefully furnished with a comfortable double bed, soft rugs, and ambient lighting, creating a warm and inviting atmosphere. Whether you're traveling as a couple or with a friend, Derwen offers plenty of space to relax and unwind.
You'll have your own private composting toilet and shower, complete with environmentally friendly toiletries. What's more, Derwen benefits from its own designated BBQ and fire pit, perfect for grilling delicious meals al fresco. We provide sustainably sourced firewood in addition to kindling, fire starters & matches, for a cosy evening by the crackling fire.
In addition to cool boxes and freezer packs for your own personal use, you have access to our shared glamping kitchen area, where you'll find all the essentials to prepare delicious meals, including two grills with toaster functionality, two kettles and two sets of pots, pans, cutlery, utensils and tableware. We also provide some basics, including sunflower oil, olive oil, tea, coffee and sugar, plus kitchen roll, cling film, foil and tea towels, to make things a little easier. Access to a large fridge freezer is available in our camping kitchen.
Book your stay in Derwen at The Enchanted Oak today and enjoy relaxation and adventure in the picturesque Welsh countryside.