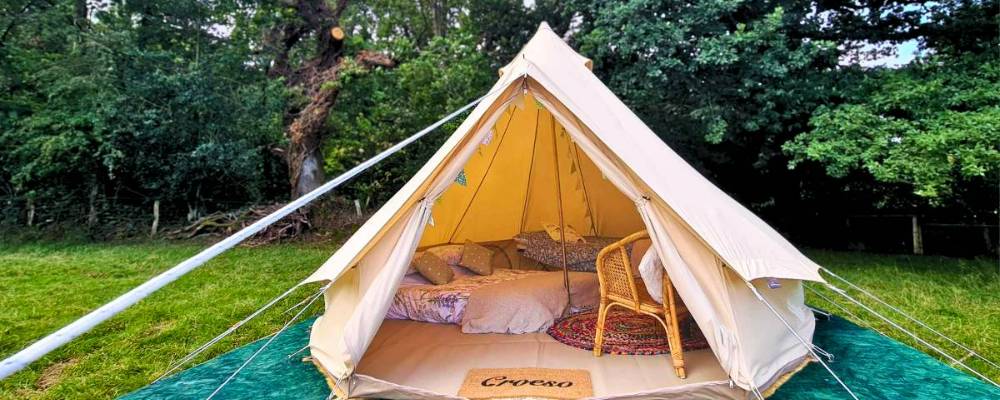 Experience the beauty of the great outdoors in true comfort with a stay in our charming 4m bell tent, Dyffryn. Dyffryn, which means "valley" in Welsh, perfectly embodies the idyllic setting of our glamping site, nestled within the breath-taking landscapes of the Aeron Valley.
Step inside Dyffryn and be greeted by a cosy and inviting space, with every detail taken care of. Furnished with a comfortable double bed, soft cushions, and a plush rug, plus ample seating and storage space, this thoughtfully designed bell tent ensures a restful night's sleep amid nature's embrace.
You'll have your own private composting toilet and shower, complete with environmentally friendly toiletries. Additionally, Dyffryn features a designated BBQ and fire pit, perfect for grilling delicious meals al fresco. We provide sustainably sourced firewood in addition to kindling, fire starters & matches, for a cosy evening by the crackling fire.
In addition to cool boxes and freezer packs for your own personal use, you have access to our shared glamping kitchen area, where you'll find all the essentials to prepare delicious meals, including two grills with toaster functionality, two kettles and two sets of pots, pans, cutlery, utensils and tableware. We also provide some basics, including sunflower oil, olive oil, tea, coffee and sugar, plus kitchen roll, cling film, foil and tea towels, to make things a little easier. Access to a large fridge freezer is available in our camping kitchen.
Book your stay in Dyffryn and embrace the magic of the Aeron Valley. Let nature's beauty surround you as you relax, recharge, and create unforgettable memories in this picturesque corner of Wales.